In today's day and age we are constantly on the move. Unfortunately, we don't always have the foot support that we need. The A-line insoles not only help to support your foot but also condition them to support themselves when your attire doesn't call for shoes.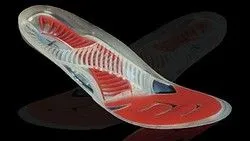 LEARN MORE AT http://www.aline.com/
Aline Orthodontics
We live in a world of hard, flat surfaces. and we place extreme demands on our feet. over time, our arches fall and our ankles begin to lean. that is bad news for the knees, hips, back and shoulders. but there is good news too. your feet can stay strong, if you'll only let them. when you wear alines every day, combined with well-built, non-squishy footwear, you'll begin to notice worlds of difference in the way your body feels. and you'll be ready performing at a higher level when it's time to hit the mountain, the trail, or the golf course.
What does ALINE do for you?
ALIGNS your feet, ankles and lower legs for optimal balance and control, with less fatigue.
STABILIZES your foot inside your shoe. This means a smoother stride and less fatigue.
SUSPENDS your foot structures to let your feet (and body) to move more efficiently.
Wear your ALINEs on long hikes or short walks. You'll love them if you do a lot of standing. The combination of a stable, supportive shoe and ALINE is the best thing you can possibly do for your feet....ALINEs help give new life to old footwear & ensure the best fit for your new shoes.
LEARN MORE AT http://www.aline.com/