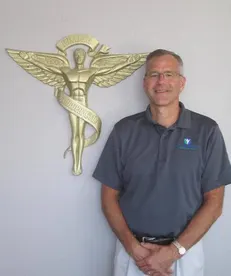 Dr. Peters and his wife Kim were raised on farms near Mallard, Iowa and began their educations at Mankato State University. Dr. Peters received his Doctorate degree from Palmer College of Chiropractic in Davenport. Dr. Peters has extensive training and experience in the areas of sports, general practice, personal injuries and wellness. The family enjoys a relationship with Christ, sports, hunting, fishing, vacationing and nature in general. Dr. Peters favorite times are being with his wife and children; however, when not with them he enjoys covering sporting events and time on their acreage.
Dr. Peters has been in practice for 25 years in Madrid. He has served the community as both a Chiropractor and a primary care provider serving all ages and economic backgrounds. His passion is Chiropractic, caring for and helping people reach their optimal health potential. When asked what he likes most about working with the public, he responds, "Seeing people and families, young and old, growing in all aspects of life (spiritually, physically, emotionally, socially, and intellectually)".
25 years + experience.
Ongoing formal training on General Family Practice, Sports Injury, Personal Injury, and Wellness Care.
Diplomate American Chiropractic Board of Sports Physician.
Lecturer at C.E. accredited sponsored events and conventions.
Team physician for Madrid High School football for 25 years and has been on medical teams at the local, state, national, and international events.

Has developed and maintained working relationships with multi-disciplinary health care specialists from the regional area.
2 week rotation at the Olympic Training Center in Chula Vista, CA.